Verizon two weeks away from LG Chocolate Touch?
This article contains unofficial information.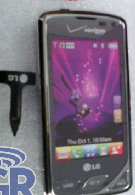 A new tipster with Verizon connections has given BGR the tip that the LG Chocolate Touch will be making it's way into the carrier's stores in 2 weeks. No, this is not the Chocolate BL40 or even the BL20. Instead, this has the same form factor that you've seen on LG handsets like the Versa and the Dare. For some reason, Verizon thought best to use the older EV-DO rev. 0 for 3G connectivity. That usually means slower data speeds, especially when looking up some complex web sites. The pictures from the 3.2MP camera will be displayed on the 3 inch touchscreen with resolution of 240 X 400 pixels. When it comes time to catch some tunes, the on-board FM radio will come in handy. And Big Red kicks in a couple of apps like VZ Navigator and Visual Voicemail (although you still have to pay monthly for each). We still have no idea on pricing. With all of the smartphones that Verizon will be offering in the next few weeks, the LG Chocolate Touch might get lost in the crowd, but not everyone wants a smartphone and this will be another feature phone in the carrier's stable.
LG Chocolate Touch VX8575 Specifications
|
Preview
source:
BGR