Verizon to partner with Color for HD life-streaming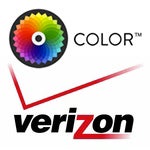 Social-location-photo-streaming-video start up Color has been an enigma ever since its inception. It raised
$41 million dollars
before it launched a product based on the talent of people behind the company. Yet the launch was an unmitigated disaster, as they initial location-based photo sharing app (think Instagram without the hipster filters and more emphasis on local discovery) was an unmitigated disaster.
Users were often unsure what to do with it, and those who did use it worried about the possibility of exploiting the local sharing (think stalkers on a college campus). Pundits opined that Color was really data-mining your images and social interactions, with the photos and sharing you did really just created information for advertisers to use.
Color has since pivoted, changing for a while to a more traditional photo-sharing app, and then moving into video.
This is where the pairing of Verizon and Color comes into play, and it may really pay off. Color wants to let share live streaming video while also having that video be recorded for later use (or editing, etc.). Their apps on the iPhone and Android smartphones can already do this, but the realities of mobile bandwidth meant that they used a reduced frame rate and no audio.
Thanks to Verizon's partnership and their widespread 4G network, Color will be releasing an exclusive version of their app that doubles the frame rate of the video captured, and includes audio. That will include both the Android and iOS version of the app (maybe this is another indication of an LTE-equipped iPhone 5?). Color says they hope to be streaming 720p video within a year over Verizon's network.
On the downside, that's going to crush some of your data plans (which is
most likely why
Verizon is partnering with Color), but on the up side very soon you will be able to stream high definition video and audio live of your kids opening presents on their birthday right to the grandparents, while taking the highlights and posting them to the social network(s) of your choice later.
source:
Color
via
Engadet