Verizon still holds the lead in call quality across the U.S.
10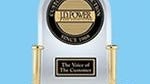 The results from
J.D. Power
's latest call quality study across the U.S. are out and the results may not be surprising to many of you, fellow readers. For the thirteenth time in a row,
Verizon
has been announced as the nation's leading carrier in terms of call quality after sweeping the competition in the U.S. northeast, southeast, southwest and west.
AT&T
's call quality is trying to keep up as it gets average scores in all areas. The only exception is in the Mid Atlantic, where the first place is split between both carriers.
Further study details rank Verizon as the nation's prime in several other categories, such as customer satisfaction, texting quality, and fewest dropped calls.
Sprint
shows mixed call quality results by sometimes scoring above the average and sometimes not performing so well. As for
T-Mobile
, well, let's say that the carrier still has some catching up to do when it comes to the quality of its calls.
Smartphones have been suggested as a reason for reduced call quality due to the extra load on the network caused by their heavier data traffic. The study shows that smartphone owners or subscribers, which rely on texting, are slightly more likely to experience service problems in comparison to feature phone users. Basic cellphones are far from immune to poor service since failure rates among them, according to the survey, have gone up a notch.
Are you happy with the service quality of your carrier? Or perhaps you disagree with some of the results from the study? Feel free to express your opinion in the comments below.
source:
J.D. Power
via
Electronista
Recommended Stories