Verizon preparing two LTE MiFi hotspots for launch, first one coming in few weeks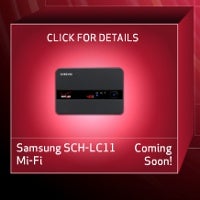 Verizon might have launched its 4GLTE network all the way back in December last year, but exceptfor two 4G USB modems, there are no other devices currentlysupporting the high-speed network. Well, not for long as the HTC ThunderBolt is just two days away from its launch, and now two MiFi mobile hotspotsare also being prepared for launch.
The Samsung SCH-LC11 Mi-Fi withsupport for LTE is the first one expected to come in a few weeksallowing you to hook up to 5 devices. The second one branded as theVerizon MiFi 4510L, produced by Novatel, also allows you toconnect up to 5 Wi-Fi enabled devices and will follow suit shortlyafter. Big Red's 4G LTE promises to rock your Internet speedometerswith downloads ranging from 5Mbps to 12Mbps, close to what some cableISPs can offer. Now that the initial tests confirmed the speeds, we can only hope for those tocome sooner rather than later, right?
source: Verizon
Thanks, anonymous!