Verizon officially supporting same-day delivery for select markets
2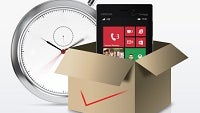 In October, Big Red began
testing a same-day order fulfillment program
in Philadelphia, Pennsylvania. Later that month, the program expanded to New York City, then quietly to Pittsburg, Pennsylvania, Dallas, Texas and San Francisco, California.
That program is no longer a "test" and the carrier seems to have managed to be able to harness local corporate owned store inventory that is proximate to customer locations.
As before, the option still costs $19.99 with the order. If you are buying a new phone, you can include accessories too. Accessory-only orders are not eligible to use the same-day delivery method. The rest of program is also largely unchanged. Orders need to be submitted by 10AM local time, Monday through Friday, and the customer will receive the shipment via courier by 7PM.
The service is still relatively new, so even if you live or work in one of these cities, the same-day delivery option may not be available since it is based on zip-code. For example, in San Francisco, deliveries within zip-code 94110 are eligible for same-day delivery, but in zip-codes 94114 and 94107, which are immediately adjacent, same-day delivery is not an option.
If you are one of those "need to get it today" people that also cannot be bothered with going to a store, you can check your delivery options while placing the order and an extra $20 can get you that almost-instant-gratification.
source:
Verizon