Verizon: no HTC One smartphones for now
32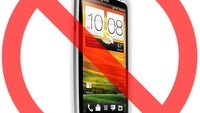 Not that we have had any rumors pointing at such a scenario, but we thought we'd share the news with you anyway since it comes from an official source. So, it turns out that Verizon does not intend to offer the
HTC One X
,
HTC One S
, or
HTC One V
.
"Verizon is not going to be carrying either of the HTC One devices currently announced"
, said HTC spokesperson Jeff Gordon.
Instead, Verizon subscribers will have to settle down with the
HTC Rezound
or the
HTC DROID Incredible 4G LTE
if they demand a top-notch smartphone made by HTC. The former comes with a 4.3-inch 720p display while the latter sports a 4-inch qHD screen. Both of these devices are powered by dual-core processors – a 1.5GHz Snapdragon S3 for the Rezound and a 1.2GHz Snapdragon S4 for the Incredible 4G LTE. In addition, 8-megapixel cameras grace the backs of both these smartphones, and to top everything off, LTE connectivity comes standard.
Still, while Gordon made it clear that the current HTC One smartphones will not be offered with the carrier, he does not mention anything about any future models, so you never know what the future may hold for Verizon and HTC. Does anyone think that Verizon should have gotten at least one of the HTC One handsets, or will its current lineup do just fine? Let us know what you think by dropping a comment.