Verizon new iPad can run AT&T 3G
7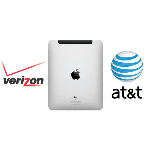 Good news for any new iPad owners who may be looking to switch carriers anytime soon. It looks like the new Verizon iPad isn't necessarily locked just to Big Red's carrier network, and can make something of a switch if need be. The switch is something that we've kind of hoped for, given the radio found in the new iPad, but it hadn't been confirmed until now.
It seems that if you've bought a new iPad from Verizon, you can also run that device on AT&T's 3G network, and this was confirmed by a MacRumors member named jsnuff1. Of course, you'll need a micro-SIM for AT&T, but it looks like the new iPad can run on either Verizon's CDMA or on AT&T's HSPA+. You won't be able to get LTE speeds though, this is only for 3G. Apparently, the switch is pretty easy as well, just requiring you put in an AT&T micro-SIM and apply the AT&T APN carrier settings.
We were hoping this would happen, since the new iPad on both Verizon and AT&T has a world-compatible GSM radio, but it was expected that the Verizon branded iPad would be locked onto the carrier's network. Luckily, that isn't the case, so users are no longer quite as locked onto Verizon (except if you happen to be on contract of course).