Verizon may allow families to share data packages
23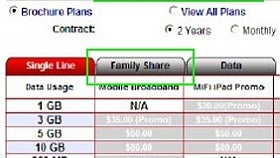 Verizon has some new changes coming to their plans on June 26th. We don't know if this is what they meant, but the screenshot, displaying a "Family Share" option on the Data page, shows that
Verizon will allow families to share data on their Family Plan
, like they do with voice minutes.
Verizon has been considering a move to shared data packages for a while. After all, most people don't really need the unlimited data package. And usage can vary widely between months. Why not save a bit by splitting a few GBs with loved ones?
Android Life has since heard that changes won't come before July 7th, when the
4G LTE hotspot
promotion ends. We're not sure if that means right after July 7th, or some time after. Either way, it's good to know we'll be able to customize our plans a little better.
source:
Android Life