Verizon has free gifts for subscribers and non-subscribers to celebrate "Thanksgetting"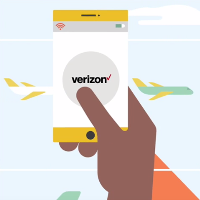 The other day, we told you that Verizon was giving subscribers
a free GB of data for the current month, and an additional GB for next month
. All they have to do to claim this gift, is click on the sourcelink. Once they sign into their Verizon account, clicking on the related link will automatically add 1GB to customers' accounts immediately, and add another GB of data when the next billing cycle rolls around. The free data must be claimed before Tuesday at 11:59pm PST (2:59am on the East Coast of the United States).
It's all part of Verizon's new "Thanksgetting" holiday, which the carrier says takes place the day before Thanksgiving. Verizon is giving away other "Thanksgetting" day gifts to those who visit the sourcelink, and claim these free gifts before Wednesday at 11:59pm PST (2:59am on the East Coast of the U.S.). You don't even have to be a Verizon subscriber to claim these prizes, just a resident of the U.S. Once you claim these gifts, you can use them starting on November 25th.
The first present that everyone can grab, is a $5 iTunes gift card that is eligible to the first 74,042 who claim it before 11:59pm PST on Wednesday. You can also receive for free, seven movies and 18 television series from Amazon Prime; 10 eligible songs from Amazon Music; 10 apps from the Amazon Appstore (five for an Android device, five for Fire TV); and three E-books from Amazon that can be read on a Kindle device, or through the Kindle read app.
Other gifts include a 30-day free trial of Pandora One, a $20 credit toward a Lyft ride on November 25th only, and free Airport Wi-Fi from Boingo. Once you're on the airplane, you can get 30 minutes of free inflight Wi-Fi on select airlines from Gogo. Lastly, you can download the Fios Mobile app and get 100 My Rewards+ points.
Check out the promotional video from Verizon, which we embedded below. Don't forget to claim your free data, if you're a Verizon subscriber. And don't go to sleep tonight without claiming the other gifts. Once again, you don't have to be a Verizon customer to snag those other freebies.
Happy Thanksgetting everyone!
source:
Verizon
via
AndroidGuy