Verizon fighting through LTE difficulties
99+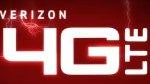 New technologies always seem to pose new problems and that is the case as Verizon is fighting through the struggles of LTE in an attempt to release their 4G capable handsets during the first half of the year.
The first LTE enabled smartphone to hit the Verizon network is supposed to the HTC Thunderbolt, but it has been delayed numerous times. Verizon CTO Tony Melone said that LTE handsets are still on track to be launched during the first half of the year. Here is what he had to say:
I guess our expectations change, but we had said first half of this year at CES, quite frankly, we think that exceeded people's expectations. A year ago, people didn't believe that there would be LTE smartphones in 2011. First half of the year is what we promised; first half of the year is still on track. So we don't believe there are any new or surprising issues. I think what we're facing is what you would expect, and that is a new technology, you are working through issues. And we anticipated that, and we are pleased at how we are working through issues. And as I said, you are going to see LTE smartphones on the network as promised, before the first half — before the second half of the year, by the end of the second quarter.
There should be no surprise that there are issues to work through since this is generally the case with new technology. Tell us what you think in the comments below.
source:
ZDNet
via
Mobile Burn