Verizon expected to lower the prices on its KIN phones?
7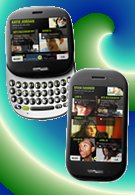 Many agreed that the Microsoft KIN ONE and TWO were priced a little bit higher than what some would've expected them to be. It still remains unseen at how Microsoft's two handsets fared when it comes to sales, but indirect dealer
Best Buy
could've given them a boost by reducing their prices by $50 each – plus they didn't require mail-in-rebates for the reduced prices. Now there is speculation that Verizon will move forward starting tomorrow and follow the same price points for their KIN phones – the KIN ONE priced at free while the KIN TWO would be at $49. Although the price drop may be good in the short term, it may still not feel justifiable to some people when you consider the required data feature needed to purchase the device. However, one has to remember that it offers the KIN Studio which essentially uploads all of your photos and videos to the clouds – something that obviously takes up a lot of data when you consider the 5-megapixel shooter on the KIN ONE.
Microsoft KIN ONE Specifications
|
Review
Microsoft KIN TWO Specifications
|
Review
source:
BGR