Verizon employees getting trained on the HTC Droid Eris and much more
This article contains unofficial information.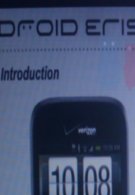 With Big Red gearing up for theupcoming holiday season with their vast new lineup, employees aregetting the low down before they start rolling out devices to storesso they are properly trained. It's always a good thing for employeesto diligently train on new products before they begin selling them tocustomers. Of course it'll make them more knowledgeable about theproducts and comfortable being able to answer questions that arise.Not to be overshadowed by the hype around the Motorola Droid, the HTCDroid Eris is getting a piece of the spot light in the form of atraining module. Unfortunately pricing was not part of the onlinetraining the employees are required to complete – it just providessome useful information about the features of the phone. So far therumors are pointing to a launch date of November 6 for the HTC DroidEris. One of our own tipsters has informed us that employees havebeen traveling to certain Verizon locations to get some hands on timewith the Motorola Droid, HTC Droid Eris, and the HTC Imagio. Inaddition, they are taking these customary training modules in orderto fully grasp the understanding of these devices. These modulespoint to a telling tale that an imminent launch date can be expectedsoon.
Thanks to our tipster!
HTC Imagio Specifications | Review
Motorola Droid A855 Preliminary Specifications
via AndroidGuys