Verizon does a 180 degree change on Wi-Fi
This article contains unofficial information.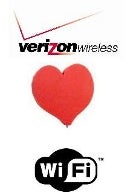 For years, Verizon and Wi-Fi did not mix. Stripping Wi-Fi radios out of handsets, or not designing them into new phones, Big Red probably not only felt that its 3G network was just as snappy, but also wanted customers to pay to use the Verizon network rather than use free Wi-Fi. But lately, this thinking has changed. The upcoming BlackBerry Storm 2 has Wi-Fi, according to
videos seen
on YouTube, and so will the Touch Pro2 which will be launched this Friday. Verizon's Chief Marketing Officer, John Stratton, says a load of Wi-Fi enabled phones is coming to the carrier. "The vast majority of PDAs and smart phones that we launch from thismoment forward are going to be Wi-Fi-enabled," Stratton said in aninterview. "If you look at devices that will be shipping this quarterand definitely in 2010, they'll be Wi-Fi." It is not just Verizon as it seems that more consumers are looking for Wi-Fi as a feature before they purchase a phone. API Research estimates that 300 million Wi-Fi enabled handsets will ship in 2011, up from 144 million expected to ship this year.
RIM BlackBerry Storm2 Preliminary Specifications
HTC Touch Pro2 Specifications
(CDMA) |
Review
(Sprint)
source:
Investors