Verizon brings Exchange support to non-PDA devices
15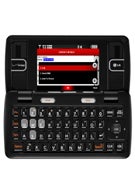 Verizon announced the availability of RemoSync on certain non-PDA handsets. For $9.99, users can access their Exchange email, calendar and Outlook contacts.
This solution is geared towards small to medium businesses and offers some cool features such as 2-way contact syncing with Outlook, calendar management via the phone and being able to accept a meeting invitation remotely. RemoSync uses Microsoft Direct Push, though the user has to open the BREW application to retrieve their mail. Attachment names can be viewed, but it does not support viewing or downloading of the actual attachment. No data pack is required for the use of RemoSync.
Users with the following phones can download it via Get It Now: LG VX9400, LG VX8700, Chocolate by LG, V by LG, enV(2)™ by LG, Venus™by LG, and Voyager™ by LG; Verizon Wireless Gleam™ by Samsung, VerizonWireless FlipShot™ by Samsung and Alias™ by Samsung; MOTORAZR™ maxx Ve,MOTORAZR(2) V9m, MOTORIZR™ Z6tv, and MOTO™ Z6c world edition.
Hit the link for a full list of features and the official press release.
source:
Verizon Wireless