Verizon boosts profits, adds 1 million new subscribers
23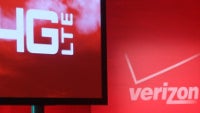 Verizon Wireless, the nation's largest carrier, has scored a whopping
$2.25 billion in profits
and added nearly 1 million new wireless subscribers in the second quarter of 2013. With a net income of 78 cents a share, Verizon beat analysts expectations for 72 cents.
The total quarterly revenue grew to $29.8 billion for the New York-based carrier who was the
first to massively launch a 4G LTE network.
Now, that huge investment is paying off as 941 000 subscribers signed into Verizon contracts.
Verizon now covers 500 U.S. markets with high-speed 4G LTE connectivity while its biggest rival AT&T only covers 300 markets.
"Having posted double-digit earnings growth in five of the last six quarters, we are focused on continuing to provide the best portfolio of products on the most reliable networks; capturing incremental revenue growth in broadband, video and cloud services; and sustaining our earnings and cash-flow momentum,"
Verizon's chief executive Lowell McAdam said.
source:
Verizon Wireless
(PDF)