Verizon addresses concerns over Cox spectrum deal
16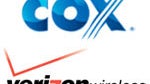 As we
reported last week
, Verizon entered into an agreement with Cox Communications to obtain its 20 MHz AWS spectrum license for $315 million dollars. Verizon and Cox also entered into an agreement to offer each other's services to their respective customers.
It has since been reported that
the U.S. Department of Justice is reviewing the deal for potential anti-trust violations
. DoJ spokeswoman Gina Talamona confirmed the examination, but refused to elaborate further. It should be noted that regulatory review of spectrum purchases of this magnitude are not in and of themselves unusual.
Speaking to Bloomberg, consumer advocacy researcher
Mark Cooper claimed that the deal "diminishes competition in every way"
. Cooper specifically cited concern about the further concentration of spectrum into fewer hands, as well as the anti-competitive impact of removing competition between companies like Cox and Verizon.
Verizon spokesman Ed McFadden characterized the purchase as a standard secondary market spectrum sale, and indicated that Verizon submitted its public interest statement discussing the purchase to the FCC on Friday.
In response to concerns about competition, McFadden stated that the spectrum being purchased had been under-utilized for six years, and that its acquisition will let Verizon serve the increasing 4G bandwidth demands of its customers. He added that
in some markets the deal may actually increase competition
, as cable companies will gain the ability to bundle wireless and cable services together to more effectively compete against carriers with similar offerings.
Verizon hopes to conclude the transaction sometime in mid-2012, allowing them to start utilizing the spectrum in their network by the end of 2013.
source: Verizon,
Bloomberg
Recommended Stories