Verizon Wireless wins third straight JD Power and Associates award for customer care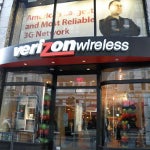 "Verizon Wireless is pleased to be recognized once again for the quality of our customer care, and we remain committed to continuous improvement of the award-winning service our customers have come to expect. In our stores, on the phone and online, Verizon Wireless strives every day to help consumers make the wireless choices that fit their lifestyles best."-

Marni Walden, executive vice president and chief operating officer, Verizon Wireless
For the third consecutive time, JD Power and Associates has announced that Verizon Wireless scored the highest in customer care for its latest survey. In the
J.D. Power and Associates 2012 U.S. Wireless Customer Care Full-Service Performance Study
volume 2, Verizon scored 771 points,
12 points above the industry average
. The survey is conducted from feedback accumulated from customers at the top four U.S. carriers.
Verizon also won
the last two customer care surveys
. The one that was announced about a year ago saw
Verizon Wireless finish first in customer car
e with a 770 score, 1 point shy of this year's survey.
Verizon also was awarded the customer care crown
from JD Power in February 2012. Verizon is currently the largest of the top four U.S. mobile operators based on the number of subscribers. Big Red is followed by AT&T, Sprint and T-Mobile.
source:
Verizon


BASKING RIDGE, N.J. – July 26, 2012 –

For the third consecutive time, Verizon Wireless, ranked first in customer care among national full-service wireless providers in J.D. Power and Associates' national study of customer care among the leading U.S. wireless providers.

In the J.D. Power and Associates 2012 U.S. Wireless Customer Care Full-Service Performance StudySM – Volume 2, released today, Verizon Wireless received a score of 771, to lead the category at 12 index points above the overall industry average. The study was based on feedback gathered from customers of the four major U.S. wireless providers during the first six months of 2012. J.D. Power and Associates also ranked Verizon Wireless highest in customer care in its last two Wireless Customer Care customer studies conducted January through December 2011.

"Verizon Wireless is pleased to be recognized once again for the quality of our customer care, and we remain committed to continuous improvement of the award-winning service our customers have come to expect," said Marni Walden, executive vice president and chief operating officer of Verizon Wireless. "In our stores, on the phone and online, Verizon Wireless strives every day to help consumers make the wireless choices that fit their lifestyles best."

In addition to award-winning customer care, Verizon Wireless offers its customers access to the nation's largest 4G LTE mobile broadband network in 337 U.S. markets; an industry-leading lineup of smartphones, tablets and other wireless devices; free in-store and online Wireless Workshops; and the tools and resources they need to manage their wireless lives.

For more information about Verizon Wireless, visit www.verizonwireless.com.

About Verizon Wireless

Verizon Wireless operates the nation's largest 4G LTE network and largest, most reliable 3G network. The company serves 94.2 million retail customers, including 88.8 million retail postpaid customers. Headquartered in Basking Ridge, N.J., with 78,000 employees nationwide, Verizon Wireless is a joint venture of Verizon Communications (NYSE, NASDAQ: VZ) and Vodafone (LSE, NASDAQ: VOD). For more information, visit www.verizonwireless.com. To preview and request broadcast-quality video footage and high-resolution stills of Verizon Wireless operations, log on to the Verizon Wireless Multimedia Library at www.verizonwireless.com/multimedia.

####

Media Contact:

Tom Pica, 908-559-7516