Verizon, T-Mobile and AT&T throttle YouTube or Netflix all the time, does it matter?
14
If you have been wondering what all those video definition tiers in Verizon, AT&T, T-Mobile or Sprint data plan prices mean, there is one word to explain them - throttling. Video streaming is a hot commodity on any carrier, and if they want to keep the network quality decent for everybody, data-guzzling streamers have to be throttled.
At least this is the explanation usually given by carriers. A
new research
sheds light on the fact that US carriers are actually throttling streaming video services like Netflix, YouTube or Amazon Prime at all times, albeit in different ways.
Last June, the FCC rolled back some throttling regulations for the chagrin of the net neutrality proponents, and yet limiting video streaming data speeds has been happening on US carriers well before that, the research showed. The table below shows the country, carrier, and the type of streamer services they throttle.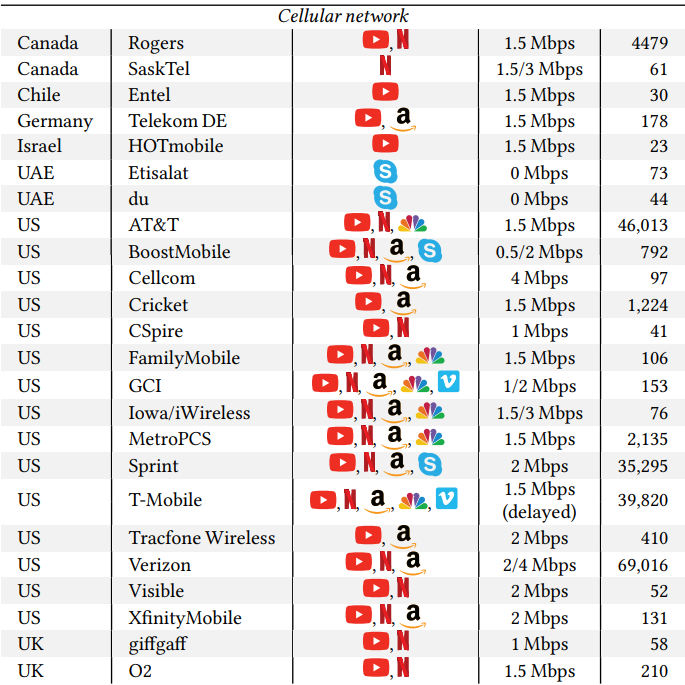 Of course, restricting video streaming speeds and hence quality, is just another way for carriers to differentiate their different plan tier prices, so we wouldn't read much more than that in the conclusions of the study.
What's more interesting, however, is how they throttle, or why some services get preferential treatment. T-Mobile caps the streaming speeds of services like Amazon Prime, NBC, Netflix or YouTube, but rarely Vimeo and never Skype, for instance. Also, some apps like Netflix or NBC Sports get delayed throttling, whereas YouTube is capped from the start.
AT&T, on the other hand, lets Amazon Prime or Vimeo run free, but aggressively throttles Netflix and YouTube. Verizon was the most consistent of them all, with all streaming apps falling under two different rates of throttling - 2 or 4 Mbps - that can easily be attributed to the different features in its more expensive data plans that allow HD streaming. The final takeaway in the study? We are listing it below:
We found that most throttling targets video streaming, and that there are a wide range of throttling implementations detected in our dataset. In addition, we investigated the impact of throttling on video streaming resolution, finding that while throttling does limit video resolution, it is also the case that default settings in video streaming apps in some cases are the primary reason for low resolution.
To summarize, all carriers throttle all the time but low-quality footage is usually due to the streaming service app's own resolution settings, not the lack of bandwidth, so as long as you enjoy your videos on the go there's no need to get triggered by the word "throttling". Do you agree with the research conclusion?