Verizon CEO Ivan Seidenberg claims that LTE could be the end of cable internet and TV services
8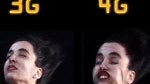 A few days after the launch of
Verizon's LTE network
, its CEO Ivan Seidenberg said that he envisages a future where cable internet and TV will not be as widespread as they are now and they will eventually give way to an "all-in-one" service powered by a wireless network, not unlike the one that Verizon already offers.
He referred to this process as
"cord cutting
", but warned that it wouldn't happen at once. However, Seidenberg pointed out that he does expect some customers to leave the cable internet/cable TV ship and join the wireless revolution in the near future, adding that Verizon is in better position than the cable operators to set the new trends.
We already posted the
test speeds
of Verizon's LTE network, but by 2013 (given that the Mayans were wrong) we guess that they would be a completely different story. Then again, as smartphones' and tablets' popularity is rising on a daily basis, this thesis looks very likely indeed - just imagine watching the evening news, while struck in yet another traffic jam.
source:
NASDAQ
via
Electronista