Verizon BlackBerry Curve 8530 to be called simply as the Curve 2?
This article contains unofficial information.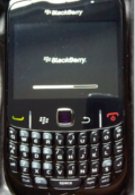 The team over at CrackBerry was able to get their hands on a Verizon BlackBerry Curve 8530 where they posted an initial review of the next RIM device slated for release on Big Red. With so many versions of the Curve name being thrown around, there was also some speculation as to what Verizon will ultimately brand this unit. With the Storm2 poised to hit the streets in a couple of days, it seemed like a no brainer to aptly name the successor to the original Storm with a number two slapped on at the end. With that logic in mind, the same fate may occur with the BlackBerry Curve 8530. As they mention in their initial review, the potential of using the Curve 2 name is apparent with the increase in specs over its predecessor. It appears that the notion of bigger is better has been implied in almost every category – double the flash memory at 256MB, faster CPU, and Wi-Fi connectivity. One argument mentioned was the fact that the Curve 8530 was missing out on some of the profound features found on the Curve 8900. Regardless of what the user opinions might be, all of it points to a telling sign that the simple Curve 2 moniker will stick with it. For the folks who have used the Curve 8330 for Verizon Wireless, the shorter name would probably make more sense because the brand reputation has already been instilled inside of them. Which ever way you want to call it, the Curve 8530 or more simply the Curve 2, will continue to be as one of RIM's most popular line of BlackBerry handsets.
RIM BlackBerry Curve 2 8530 Preliminary Specifications
source:
CrackBerry