Verizon 4G teaser site goes live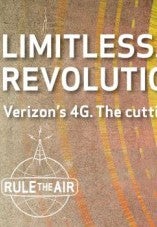 A new site from Verizon has gone live to tease everyone about their upcoming 4G network. All that can be learned is that Verizon claims it to be "the cutting
edge
of mobile greatness."
There are only a few sentences about their upcoming 4G network to even read on this site. The paragraph is as follows:
What is Verizon's 4G? It's your signal…at full-tilt.
It's an abundance of bandwidth. Reducing your lag time significantly.
And it's a powerful signal that makes you invincible.
Um so what can we all learn from that? Well we know that the LTE network will go live on the 700 MHz spectrum which will allow it to penetrate buildings with ease, so that takes care of the powerful signal claim. We know 4G is a lot faster than 3G, as we have seen with the 4G WiMax network. So pretty much Verizon is just re-emphasizing what we already know, in an effort to make us want it even more.
At the bottom of the site, Verizon has a box for users to enter in their e-mail address. That will give you the option to receive alerts about upcoming 4G availability and pricing. So what do you think? Will Verizon's 4G network be "the cutting edge of mobile greatness?" Share your thoughts in the comments below.
source:
Verizon
via
Mobile Crunch