Users of Moto X on AT&T may be invited to new soak test soon, Android 4.4.2 on the way
6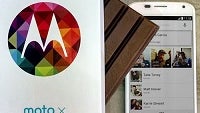 It looks like AT&T's Moto X will finally be getting updated with Android 4.4.2 KitKat. Folks that have signed up with the Motorola Feedback network should be getting invitations for the soak test beginning today.
So far, the Moto X has seen the latest KitKat update at other major carriers in the US, as well as for the unlocked version, which actually not a common occurrence, especially when you consider Verizon's Moto X has already been updated. Big Red is notoriously, how some might put it, methodical (slow) in its evaluation process of OS updates to devices on its network.
Given how quickly the whole line of Moto X was getting updated to the newest Android version, it was just a matter of time for AT&T users.
Thanks for joining the Motorola Feedback Network. We are inviting owners of the Moto X on AT&T to participate in an early preview of a new software release, and provide feedback. If you are not currently using an AT&T Moto X, please excuse and ignore this email.

Click this link ---- to take the enrollment survey if you wish to take part. Note that you must be a member in good standing of the Motorola Owners' Forums to be included. The registration window could close without notice so please respond as quickly as possible.

This is a confidential test under the terms of the Motorola Feedback Network. Do not post any details or information about this on any public sites.

Thanks -- please understand that start times are always fluid. We ask for your patience if you register but don't hear from us right away.
If you are part of the feedback program, let us know if you got the invitation. If you are not a part of the program, not to worry, these soak tests have not been taking too long, so an update is certainly imminent.
source:
Android Central