Use protection: find or design the perfect iPhone or iPad case at Zazzle
0
Advertorial by Zazzle: t
he opinions expressed in this story may not reflect the positions of PhoneArena!
Among the numerous qualities the
iPhone 6
is loved for is its extreme resistance to damage of all kinds. It can withstand anything from accidental drops and scratches to prolonged contact with dust or water.
Except that we just totally lied.
In reality, the iPhone 6 is a fragile, scratch-prone gadget, just like most other smartphones out there. Same goes for Apple's tablet, the iPad. That is why a great deal of those who own an iPhone or an iPad choose to use protection. Protection against scuffs and dents, that is. Protection that any well-made iPhone or iPad case can provide.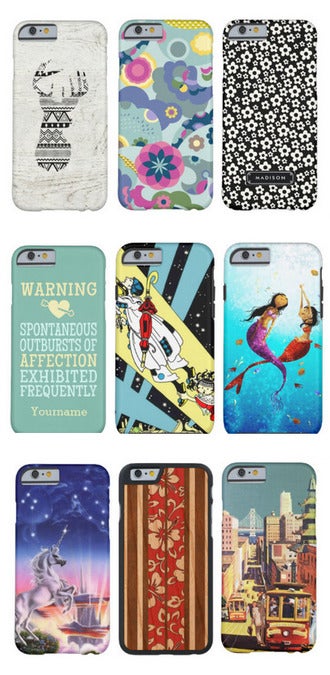 The cases at Zazzle, however, serve as more than just a layer of armor for your iDevice. They're also an excellent medium for expressing style and individuality. What makes us say that? Well, to keep it short and sweet, there's over a million iPhone 6,
iPhone 6 Plus
, and iPad cases to pick from at Zazzle. Yes, literally. Case designs span across a plethora of categories and themes, from cute and cuddly animals, butterflies, flowers, and cartoon characters, to stylish or conservative wood and metal finishes, discrete and unobtrusive patterns, and abstract pieces of art.
Now, you're probably wondering how Zazzle has accumulated such a vast portfolio of iPhone and iPad case designs. Here's the answer, in a nutshell: there are thousands of creative individuals who share their dazzling creations via Zazzle, allowing any iPhone owner to have a design they like turned into a high-quality iPhone case. In fact, any skilled and willing designer can submit their artwork on Zazzle and get a piece of the revenue for any case sold.
In addition to promoting the work of design enthusiasts, Zazzle gives anyone the option to create their own, one-of-a-kind iPhone or iPad case. That is done by uploading images to the website's online case designer tool. From there, you simply align the graphic to your liking onto a case type of your choice. You may design your own light or tough case, as well as a wallet one, or even a case with a natural wooden finish. Alternatively, you may choose to personalize one of the existing iPhone case designs by having your name or initials printed on it.
Of course, a case is still a case and needs to be durable in addition to good-looking. Well, Zazzle has that covered as its designer iPhone cases are built by respected accessory manufacturers. Among them is Case-Mate with some of its most popular cases, including the lightweight "Barely There" case, the rugged "Tough" case, and the even more durable "Tough Xtreme" case. And the aforementioned wood finish cases are the work of Carved. At the same time, DodoCase and Powis is providing the canvas for anyone wanting to turn an artwork into a case for an iPad.
So if you're still in search of the perfect case for your iPhone 6, iPhone 6 Plus, or iPad, just head over to Zazzle and browse through its vast collection. We've provided links below for your convenience.