Apple exterminates several bugs with today's release of iOS 12.0.1
46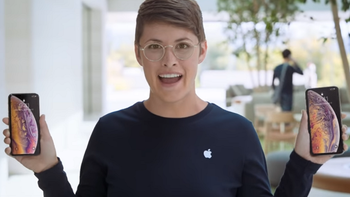 Apple has released iOS 12.0.1 today, exterminating some nasty, ugly bugs that might have kept you from fully enjoying your brand new
Apple iPhone XS
or
iPhone XS Max
. One bug prevented the two new iPhone models from charging when the Lightning port was being used for the task. Wireless charging still replenished the battery. Other iPhone models running iOS 12 also were affected, but everything should be hunky dory once iOS 12.0.1 is installed.
The latest iOS build will also help an iPhone XS and iPhone XS Max select the correct Wi-Fi network to use. A bug was causing some of these models to hook up with a slower 2.4GHz Wi-Fi network instead of a faster 5GHz signal. Thus, the update to iOS 12.0.1 should help some iPhone users experience faster Wi-Fi connectivity.
Apple iPad users will notice that the "123" number key on the tablet's virtual QWERTY keyboard is back at its pre-iOS 12 location. Apple switched the position of the key with the one for emoji/language in iOS 12. But this prevented subtitles from working on some video apps, and also created an issue where Bluetooth might not work.
The changelist for iOS 12.0.1 includes:
Fixes an issue where some iPhone XS devices do not immediately charge when connected to a Lightning cable.
Resolves an issue that could cause iPhone XS devices to rejoin a Wi-Fi network at 2.4 GHz instead of 5 GHz.
Restores the original position of the ".?123" key on the iPad keyboard.
Fixes an issue where subtitles may not appear in some video apps.
Addresses an issue where Bluetooth could become unavailable.
To update your iOS device, go to
Settings
>
General
>
Software Update
.
source: Apple