Update to Twitter now lets iOS users see how many views their tweets receive
2
Twitter users must have an above-average ego to believe that everyone wants to read their opinions of everything, limited as it is to 140 characters. Unfortunately, those sending out tweets had to guess by the response to a message, just how many people took time from their busy day to read a particular post. But an stealth update to the iOS version of Twitter has changed all that. With the update comes a new "views counter"underneath a tweet that shows precisely how many people have read it.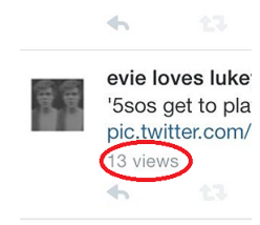 The iOS Twitter app now shows the number of times a particular tweet was viewed
The "views counter" is either a test or a new feature exclusive to the iOS variant of the Twitter app, and nothing has been said about it yet. Twitter has made a point about getting subscribers to do more "favoriting" and "retweeting" messages and the number of retweets is believed to have risen 35% recently. Of course, the whole retweeting process got a shot in the arm recently, thanks to the publicity that the general media bestowed upon
Ellen Degeneres' record breaking selfie
taken at the Academy Awards. When the president was a guest on Ellen's show last week to promote the Government HealthCare website, he joked around with Ellen, calling the whole thing a "
pretty cheap stunt
".
Getting back to the "views counter," we would imagine that if the response is good, Twitter will add it to its apps on other platforms. If you're a fairly active author of tweets, how would you feel about knowing just how popular your messages are? You can drop your comments in the box below.
source:
PCMag
,
NYPost