[Update: Not really] Motorola Moto G and Moto E series will likely be phased out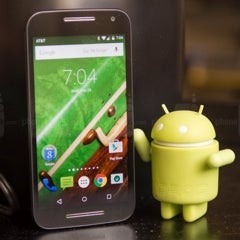 Update
: According to The Verge, Motorola sent out this statement: "Although we are simplifying the combined Motorola and [Lenovo] portfolio, we have no plans to retire Moto G, our most successful smartphone, or Moto E." Thus, both series should still be around, at least for the foreseeable future.
Last week,
Motorola and Lenovo confirmed
that the "Motorola" brand would no longer be used on smartphones. But Motorola Mobility will still exist as a Lenovo subsidiary, with high-end handsets being released under the "Moto" brand, and mid-range and low-end models being gathered under the "Vibe" brand (which is already used by Lenovo).
According to some media reports, Lenovo also confirmed that the Moto G and Moto E series of smartphones would be phased out. However, the reports are based on an article from Sina (in Chinese - see the first source link below) which doesn't specifically say that the Moto G and Moto E series will disappear. Still, since these series don't include high-end devices, the new Moto-Vibe branding strategy will likely eliminate the Moto G and Moto E names anyway.
This year, Lenovo and Motorola Mobility are planning to
release about 15 new Moto and Vibe smartphones
. Assuming that the Moto G and Moto E series are indeed being phased out, we might still see successors to the latest models (
Moto G 2015
and
Moto E 2015
), though these should be included in the Vibe series.
Motorola Moto G (2015)
sources:
Sina
(
translated
),
The Verge
,
Digital Trends