Update 4 with picture: LG VX9700 is Verizon's PRADA-like phone
99+

Documents on the FCC site indicate that a new LG phone successfully passed the tests of the Commission. The
LG VX9700
(VX means Verizon, doesn't it?), is rumoured to be the variant of the manufacturer's very popular
PRADA
phone. Similar to the
Vu
for AT&T, it won't wear the fashion branding but will have a large touch display in slim body. Verizon already offers an LG touch phone, the Voyager, but it adds extra weight and size because of the clamshell design, dual displays, and full QWERTY.
Still, this information is not confirmed as the phone is not officially announced. Expect more updates in the future.
*
Update 1
*
Sources are saying the VX9700
Dare
is expected to be released in late Q2 (May-June) or early Q3 (July)
*
Update 2
* According to another of our sources, the camera is 3.2 mega pixels.
*
Update 3
* The 3.2MP camera uses a Schneider Kreuznach lens to provide higher quality pictures. On the left side of the phone is the microUSB port and on the right side is the microSDHC memory card slot. For text messaging, you can enter text by using T9 predictive, multi tap, or on-screen QWERTY.
*Update 4*
Thanks to our source for providing us with an image of the VX9700 showing the Main Menu.
LG VX9700 Preliminary Specs
To see the full list of the upcoming Verizon phones and their expected availability dates, go to
Verizon Upcoming Phones page
.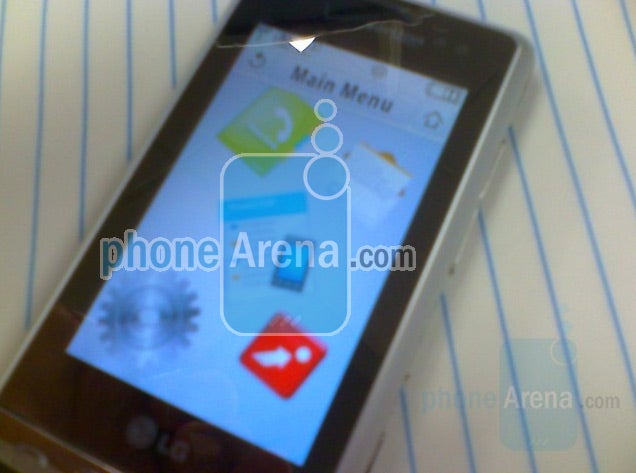 In case anyone has any more interesting pics/info to share, please email us.
source:
FCC