United Airlines keeps getting trolled on the Internet, this time with a mobile game
5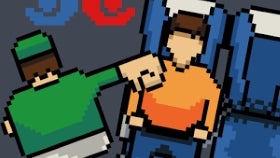 It's not our job to say who was right, and who was wrong in the recent
United Airlines
incident. The Internet has done that already, anyway. And since the Internet could be somewhat cruel at times with its mockery, we're not surprised that one entrepreneurial developer decided to take it one step further.
Enter, Remove Airlines Passenger – a mobile game, based on the recent events at Chicago O'Hare International Airport. The game will place you in the shoes of an airline security guard, tasked with removing passengers from an overbooked flight by force.
The gameplay is quite simple. Your character will automatically run on the isle of an endless airplane, while you tap the left or right side of the screen, in order to remove passengers. The more you advance, the faster your tiny, pixelated security guard will move. Hit an empty seat, and the game will end, presenting you with a score, which is basically the number of people you've booted off the overbooked flight.
The game is completely free, with no in-app purchases, but it does feature ads. Considering its extremely simple gameplay and relevance to a current event, the game is probably sentenced to a burst of fame, followed by a quick and sudden fall in the pit of oblivion, but it does show how far Internet users would go to make a point, and how some people are able to cash in on anything.