Unfinished Apple iPhone 6 sold on eBay for $11,100
12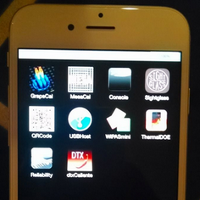 Last month, we told you about
an Apple iPhone 6 'prototype' that was being auctioned off on eBay
. At the time that we informed you about the auction, the high bid was $58,600. The 64GB model subsequently received a bid in excess of $100,000 before it was pulled from the site. But the phone recently made a return trip to eBay, and this time it was sold for $11,100.
The seller had accidentally received the unit from Verizon after he had upgraded to the new
Apple iPhone 6
. The device runs a few unusual apps, and while it was believed at first to have been a prototype, Apple called it an unfinished production model. In other words, the phone is not as much of a rarity as first believed, which explains why it was pulled off of eBay during the first auction.
There are some rather strange markings on the device, such as the red charging port, the lack of FCC markings on the back, and as we said, it comes with certain apps not found on the finished product. Alex, the gentleman who received the unfinished phone from Verizon, was offered his choice of any Apple
iPhone 6
or
Apple iPhone 6 Plus
model by Apple. Instead, he put it back up on eBay, and sold it for $11,100. Sounds like Alex made the right choice.
source:
CultofMac
via
BGR