The ultimate Apple iPhone XR case overview
2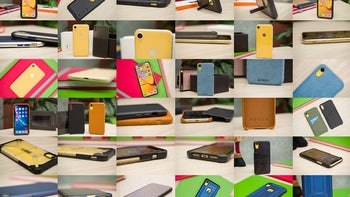 It took Apple many moons to release a case of its own for its best-selling iPhone XR offering, which has been out for a while now. This left third-party case makers with an ample opportunity to capitalize on the vast niche that had opened.
As we certainly love protecting our gear, a case is a definite must. Admittedly, we might have went a little overboard with choosing just the perfect case for our iPhone XR units, as we scored well over a dozen of these in the never-ending search for the ultimate case.
We've spent some time with each of the cases below and we're ready to chime in with our thoughts on each of those. Which one should you pick? Depends on you, of course!
Mujjo Full Leather & Leather Wallet cases
Dutch casemaker Mujjo has often been featured in our best case picks, especially the ones regarding leather cases, and for all intents and purposes, Mujjo's iPhone XR offerings are superb. Made of high-quality full-grain leather that's soft to the touch and simply exude quality, Mujjo's Full Leather and Leather Wallet cases are not only among the classiest ones we've used, but also offer excellent protection. There's plenty of grip, which is good news.
They wrap the phone from all sides except for the bottom portion and sport a slightly raised bezel that aims to protect the display from scratches when placed on a flat surface. The buttons are also covered in leather and their responsiveness is not hindered in any way. Granted, the buttons are a bit too hard to click, but we suppose they will break in with time. Another thing that will accumulate with time is the beautiful and sought for patina, with unique scuffs and scratches that will make that Mujjo case uniquely yours.
While both cases share similar strengths and weaknesses, the wallet one one-ups the overall usefulness with a card slot at the rear, which is practical and stiff enough to prevent accidental slips of ID or credit cards.
UAG Plasma Series
Okay, we are in big-boy territory now! Some may argue that if you're going to put a case on your phone, you better go all-in in terms of protection. UAG's rugged case of the Plasma Series not only looks the part, it excels at this protection business.
However, it's not all moonlight and roses. We'd have loved it if UAG had employed a grippier plastic at the back, as the case is a bit slippery. That wouldn't have been a very big issue if the case and phone combo wasn't that bulky and heavy, making up for a rather dangerous combination that is very prone to slipping from your hand. The case is also a bit unwieldy, but that's a common theme with all rugged cases.
Olixar Manta Blue

You will hardly find any other case that feels as solid as the Olixar Manta. This rugged case puts nearly all others to shame in terms of how solid and reassuring it feels. The rugged case sports reinforced corners for extra protection as well as thick plasting padding that will certainly cushion the iPhone XR from accidental fall damage. There's also a raised bezels to protect the display - you know, the whole nine yards.
The case also has a useful built-in kickstand, which helps prop up the phone in a position suitable for Netflix binging. However, have in mind that this case has a small caveat - the mute switch is a bit difficult to reach due to the tiny cutout Olixar has made.
Olixar MeshTex


This one is very curious all thanks to its cool mesh design, which does not only stand out from most other cases, but also adds a considerable amount of grip to the whole shebang, which is always a plus when it comes to cases. The semi-soft plastic also helps up with that immensely.

The case itself fits extremely snug and tight. Olixar has managed to make it super slim and it honestly feels like a second skin to the iPhone XR. However, as it applies with all such cases, the overall protection is minimal at best and wouldn't help against higher drops.
Did we mention how cool this one is? We did. Still, it should really be stressed that this case could easily become a favorite of yours, just like it happened with me personally. It might be a solid compromise in terms of overall protection, but I like how it looks and feels in my hand.
Olixar Leather case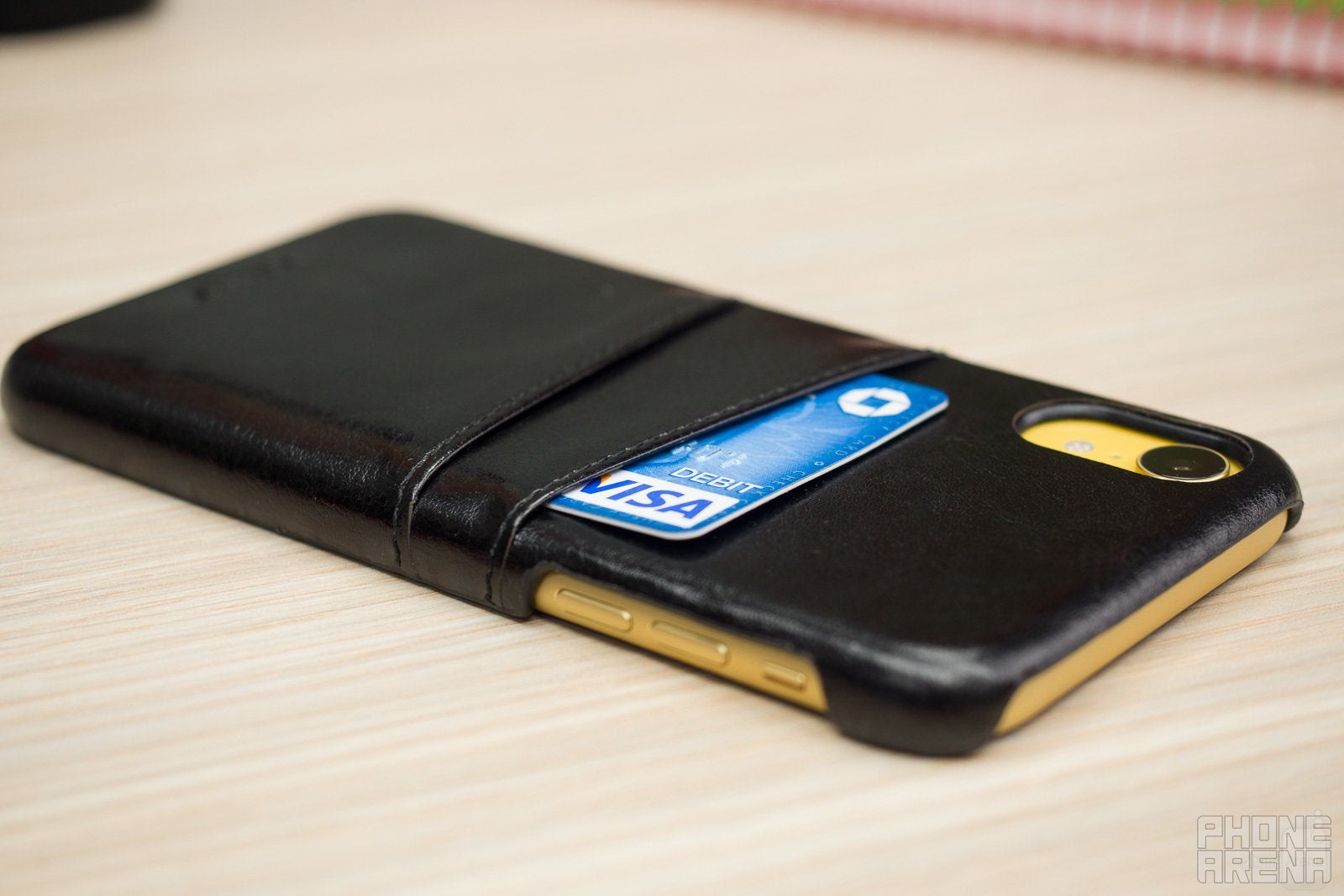 Olixar also has its own leather case, which is made of this very appealing shiny hard leather. It's a classy case, for certain, and it exudes a very stylish aura that screams "business" like nothing else. Olixar's own leather case sports not one, but two card slots at the rear. That's as useful and practical as it goes.
There isn't much going on in terms of overall protection - the case will protect from drops and scratches, but don't push your luck too much - after all, this isn't a rugged case. Of course, you will be safe when it comes to most drops, but don't act carelessly with this case on.
Spigen Tough Armor, Spigen Liquid air, Spigen Neo Hybrid cases
There's a recurring theme with almost all Spigen cases - they are predominantly plastic, offer a relatively good protection, and are relatively inconspicuous, providing your iPhone with a rather incognito appearance. The buttons of all cases are a tad stiffer than other cases, which is great protection against accidental presses but might not float the boat of just about anyone.
We tested the Tough Armor, the Liquid Air, and the Neo Hybrid, and we generally liked all three. They are not the classiest cases around, nor are they exceptional in terms of overall handling, but there's no denying they do the job mighty fine.
While all Spigen cases offer admirable protection, the Tough Armor one is probably your safest bet - it's big, is tough, and it's reassuring, not to mention that it comes with an extremely sturdy kickstand. Meanwhile, the Liquid Air case is pleasingly thin, but feels way too plasticky top us. Finally, the Neo Hybrid doesn't stand out with anything in particular, except for its dual-tone plasticky design that is anything but appealing.
Krussel Broby Cover
Unlike most of the plastic cases that are dime a dozen, the Krussel Broby will immediately strike you as way classier case. The external shell is finished in this oh-so-soft Swedish swede leather, and aside from being one of the grippiest textures you could think of, the case feels very pleasant to the touch.
In case of overall protection, the Broby is okay. It does leave out most sides of the handset exposed, which doesn't bode well for the overall protection, but at least it does shield all four corners of the phone as well as the display thanks to the slightly-raised lip.
Peel Silver, Peel Black cases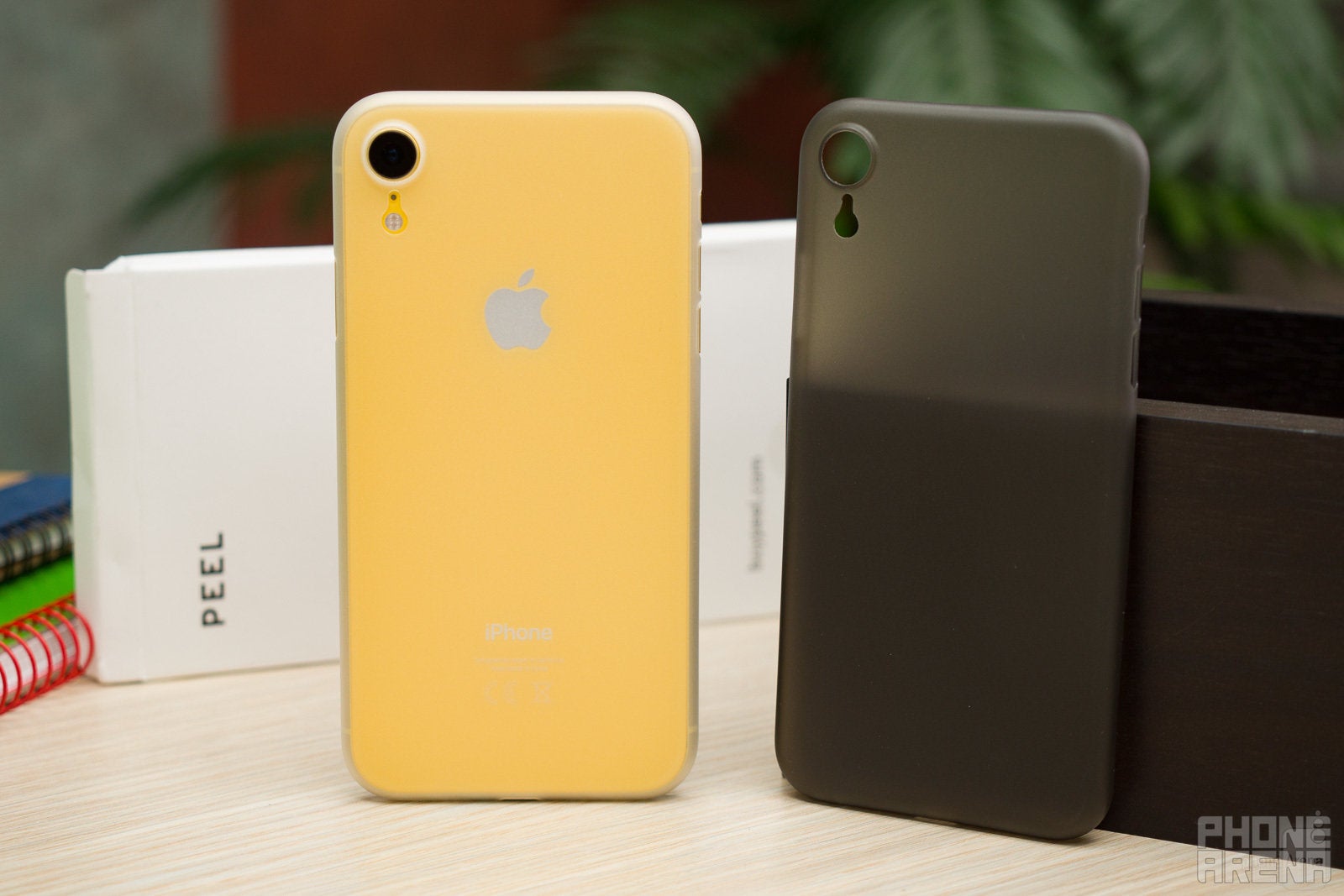 Meet one of the thinnest cases for the iPhone XR you could imagine, Peel's Silver and Black offerings. It's pretty safe to say that putting one of these on your iPhone XR will hardly add any bulk to the overall footprint of the device. Heck, the case isn't even thick enough to make up for the camera bump of the phone, that's how this it is. Available in a couple of colors, the Peel skin would nicely fit any of those colorful iPhone XRs, but we have a hunch most of you would go for the clear skin that wouldn't hide the original color of your device.
The downside is pretty obvious though - as appealing as the Peel cases feel, they will only provide protection against accidental scratches. They aren't that grippy and wouldn't protect your phone from fall damage, so have that in mind if you're eying these Peel cases.
Totallee Thin, Totallee Clear cases
Totallee's cases for the iPhone XR are pretty similar to the Peel cases we've featured right above, and are all extremely thin. While they look and feel great to the touch, these cases share the same enormous downside as Peel's offerings - they wouldn't protect from fall damage at all, meaning that you're not doing your iPhone XR a favor.
As we mentioned, Totallee's cases have the looks and the overall super-snug fit, but your mileage may vary when it comes to overall grip. In particular, the clear case that we reviewed is a super-slippery one and would warrant for at least a couple of "Oh no!" gasps when your device accidentally jettisons towards the ground. It might be considered anecdotal evidence at best, but a minute after our iPhone XR was clad in Totallee's clear case, it was already subjected to a subtle 15cm fall on a desk. No casualties were incurred, and the accident can be also attributed to my clumsy hands, but case in point - I had no such experience with any other of the tested cases.
Recommended Stories