Ubuntu's Carrier Advisory Group gets 8 new members
3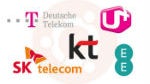 When we
talked to Canonical's Pat McGowan
last month there wasn't anything he could say about carriers that the company was working with to bring Ubuntu Touch to the market, but today there was quite a big announcement on that front. Eight big name carriers from around the world have joined Ubuntu's Carrier Advisory Group.
This doesn't necessarily mean that the carriers will bring Ubuntu devices to market, but it does show that each has solid interest in the platform. Only seven of the eight carriers that joined have been named: Deutsche Telekom, Everything Everywhere (EE), Korea Telecom, Telecom Italia, LG UPlus, Portugal Telecom, and SK Telecom. The last is an unnamed carrier from Spain, which is rumored to be Telefonica.
The Carrier Advisory Group has been formed to allow carriers to "influence the development of Ubuntu for smartphones", and will be an easy way to keep carriers up to date "about device manufacturer plans to support the OS, as well as the opportunity to be a launch partner for Ubuntu on smartphones."
A number of the carriers that have joined Ubuntu's Advisory Group have also joined similar groups for Tizen and Firefox OS. Ubuntu's Advisory Group will hold meetings concerning a range of topics including porting apps, carrier differentiation, revenue sharing, and payment systems.
We've reached out to Pat McGowan for a comment and will update this article accordingly.