USB-IF publishes guidelines for audio over USB Type-C
26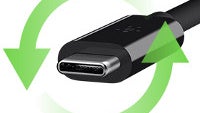 The USB Implementers' Forum (USB-IF) has this week introduced the USB Audio Device Class 3.0 specification. In layman's terms, the new spec. sets the technical parameters and guidelines for audio products that connect to devices via USB-Type C.
USB Type-C is compatible with a large portion of newer mobile devices. While it's not quite the de facto interface as yet, it's gradually replacing traditional USB connectors, and over the next couple of years, USB Type-C's ubiquity will doubtlessly increase.
What makes USB Type-C so special? Well, aside from the fact that it's reversible, it's also versatile; as well as providing a single, all-purpose connection to and from devices, Type-C can transmit lots of power in both directions. Capable of delivering power at up 100 watts at 20 volts, a USB Type-C connector on a laptop, for example, can replace a traditional power port, full-size USB for data transfer and many other everyday ports alongside, of course, the 3.5mm jack. As you can probably tell, it's a pretty convenient advancement all round.
While you'll need an adaptor to connect your current 3.5mm headphones to a USB Type-C port, it's based on an open standard, so will be supported by most of your devices and accessories (read: not those made by Apple) moving forward. The market already offers a number of USB Type-C audio gear and following the new USB Audio Device Class 3.0 specification, manufacturers and developers now have a reference point for their solutions.
USB Type-C is coming and Apple might have made a rod for its own back with proprietary Lightning interface
Despite it not having been the first to do so, much has been made of Apple's removal of the 3.5 mm earphone jack in favor of a single, all-purpose Lightning socket. As those around it transition to USB Type-C, one cannot help but feel as though Apple has made a rod for its own back by going with its largely similar, but notably proprietary Lightning connector. New iPhone 7 devices ship with a 3.5mm-to-Lightning adaptor, but as Cupertino's broader port genocide continues, it may come unstuck if it ever tries to remove the 3.5mm jack from, say, the MacBook. For then, the company would theoretically have to offer Lightning
and
USB Type-C alongside one another, to cater to the wider audience along with Apple devotees with their Lightning-enabled gear.
This is familiar territory for Apple; its FireWire standard tried, and eventually succumbed as a proprietary alternative to USB. Steve Jobs announced FireWire's demise since a large proportion of the world's products, such as camcorders, instead shipped with USB 2.0. Though the fruit company has more clout today than it did back in 2008, it will once again be outnumbered when it comes to Lightning vs. USB Type-C, with the latter backed by the USB-IF which counts the likes of Intel, IBM and Microsoft among its designers.
It will be very interesting to see if these two like-minded but incompatible standards can coexist. If history is anything to go by, one will eventually be snuffed out but even if Lightning does manage to thrive, consumers who purchase USB Type-C and Lightning products had better get used to carrying adaptors around with them.