US government fears the Apple iPad
14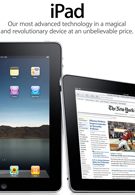 We were ecstatic when Apple
introduced its latest creation
, the
iPad
, to the world a week ago. And that's pretty natural, having in mind that high-resolution 9.7-inch screen, ultra-fast performance and the seamless web browsing experience it will deliver. It turns out though that not everyone is eagerly anticipating the new device. At least Phil Bellaria isn't. He is director of scenario planning for the Obama administration's Omnibus Broadband Initiative and in an official blog, Mr. Bellaria has expressed his concerns about the possible congestion on the communication networks the Apple iPad and other similar devices may bring. Here's what he writes:
"With the iPad pointing to even greater demand for mobile broadband on the horizon we must ensure that network congestion doesn't choke off a service that consumers clearly find so appealing…"
Mr. Bellaria refers to the network issues that occurred when AOL introduced unlimited internet access in the US in 1996, describing how users could not connect for months and how the few successful connections were too fragile, because of the numerous users attempting to connect.
And what do you think about that? Is the Apple iPad capable of bringing the network down?
source:
Broadband.gov blog
via
Electricpig