5G network in the U.S. to be under governmental control?
36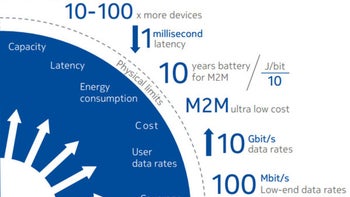 Some of the advantages 5G has over 4G, including less energy consumption and wider signal coverage
There's no doubt that 5G is the future of mobile networks. And why shouldn't it - it will be faster and more reliable while also enabling futuristic technologies such as self-driving cars, and remotely performed surgeries. Sounds great, but we are still a couple of years away from the full implementation of 5G, and countries and network companies alike are still figuring out the best way to adopt it. In the case of the U.S. things have become a bit more complicated. Recently Trump's national security team has came up with the idea to implement a single 5G network, ran by the government. But why suddenly gain control over something that's been private for ages? Well, just in case China tries to compromise the U.S. security.
The idea was initially announced on Sunday by a senior administration official. "
We want to build a network so the Chinese can't listen to your calls,
" the senior official told Reuters. "
We have to have a secure network that doesn't allow bad actors to get in. We also have to ensure the Chinese don't take over the market and put every non-5G network out of business
". This concept is quite far from implementation, being six to eight months from even considered by president Trump.
Although 5G network nationalization is still a concept, there's already a rough action plan. According to a document from a presentation by a Security Council Official acquired by Axios, there is only one viable way to approach the situation and it involves the U.S. government building a single 5G network. It would then proceed to rent it to wireless network providers. This would provide the security needed, as everything would be controlled by the government itself, but would also be an exclusive case where private structure is being nationalized.
This 5G rush is caused by the fact that "
China has achieved a dominant position in the manufacture and operation of network infrastructure,
" and "
China is the dominant malicious actor in the Information Domain
", according to the document. Recently, AT&T was forced to abandon its plan to offer subscribers
Huawei's Mate 10 Pro
after members of the congress stood against it with the help of federal regulators. This was done due to "
national security concerns"
, as reported by congressional aides. There was also the Huawei and ZTE investigation in 2012, which was conducted after espionage allegations towards the two companies.
As far as the state of implementation of 5G in the U.S. goes, companies are working on it at full speed. An AT&T spokesman said that "
Thanks to multi-billion dollar investments made by American companies, the work to launch 5G service in the United States is already well down the road.
" He also mentioned AT&T aims to be the first to launch 5G in 12 areas in the U.S. later this year. Everything new is expensive as well, with $275 billion estimated investment in 5G by wireless providers. Worldwide, 5G's development is being worked on by companies such as Nokia, Huawei, ZTE, Samsung and others. The last-gen network is expected to reach over 1 billion people by 2023, with half of that being in China, as predicted by market analysts.