US Army launches Army Software Marketplace app catalog
15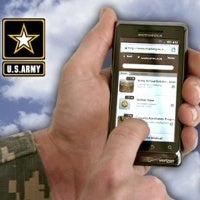 Everyone's got an app store these days and the U.S. Army is no exception - the beta versions of an iOS and Android
Army Software Marketplace
app catalogs for the military have been officially deployed. There are over a dozen applications for smartphones and tablets improving military training, and the promise is for at least as many to come in the near future.
The titles come with detailed descriptions and screenshots, but there's no feedback section.
"The Apps Marketplace is at the center of Army efforts to radically reduce the time to deliver applications across the force. This prototype is a first step in establishing and exercising new submission and approval processes that will eventually enable Army members, organizations and third-party developers to release applications for Army-wide distribution," CIO Lt. Gen. Susan Lawrence explained.
So what are exactly the apps that soldiers can download? Soldier View tops the list and it's an application allowing to file and view recent reports on a topographical map of the area. There are also apps helping soldiers locate water wells and training guides.
The Army has been pushing an effort for soldiers to use Android devices and has even modified smartphones making them more secure and less prone to attacks. It's definitely good to see military personnel trained to operate smartphones which could turn out life-saving in combat.