UPDATE: HTC Dragon gets snapped and found to be powered by a Snapdragon processor?
3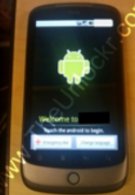 This article has been updated on October 19.
With so many Android devices slated to hit the market, sometimes there are a few that get lost underneath all the hoopla going around. We know that HTC is one of the pioneers in that domain – they've been on board since day one and gave the world our first taste of Android. With already three devices launched in the US under their belt, the
rumored
HTC Dragon is waking up from its slumber. Also known as the HTC Zoom 2, this isn't your average Android powered device underneath the hood – it's reported that a Qualcomm Snapdragon processor around 768MHz to 1GHz is on board. In addition, you'll find Android 2.0, 512MB ROM, 256MB RAM, 3.5mm headphone port, and a 5-megapixel camera. The screen will also be packing some serious pixels – 480 x 800 resolution with multi-touch. Now that some specs have been revealed, pictures of this mysterious device have finally surfaced and almost has a look similar to the recently released CDMA HTC Hero. With so many Android handsets crowding the market, we're sure that the HTC Dragon will make its presence be heard.
via
AndroidGuys
*UPDATE*:
Interestingly enough, the "menu" key here seems to have an identical design to the one found on the
images of the Motorola Droid
. This makes us think these pictures of the HTC Dragon may not be really authentic.