UK bank HSBC is going to use selfies for identity verification
5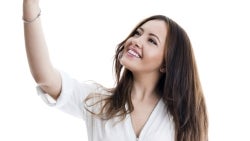 When you think of selfies, you probably think of dog ears and filters rather than biometric security. But it appears UK bank HSBC is trialing a new selfie verification system that will let business customers use the method to pass identity checks for new accounts.
Basically, the bank has prepared an app that will have customers land a pic with the front camera and have it matched against their passport or driving license. This way, customers will no longer have to visit a branch to verify their identity.
Reportedly, the app uses facial tracking technology to match parts of a customer's face to photos used in official documents from over 150 countries. The bank also expects this method to become preffered among customers due to its convenience.
A couple of years ago, some smartphones supported unlocking by taking a picture of the user's face. Alas, technology back then wasn't as sophisticated, and smartphones got easily fooled with facial photos of their owners.
However, the bank seems to have figured out a safe method to implement facial biometrics security. Perhaps the technology will catch on in the sector, together with fingerprint and voice recognition.
source:
Independent