U.S. data plans among the most expensive and most affordable at the same time
31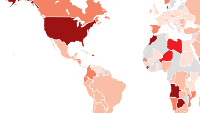 If you are a subscriber to a major U.S. carrier, it might not surprise you to find out that U.S. data plans are among the most expensive in the world. That is based on the raw numbers. The average mobile data plan with 500 MB of data is $85 monthly in the states compared to $24.10 in China and $8.80 in the U.K using dollar purchasing power parity (PPP).
Using PPP, which eliminates the affects of a too strong or too weak dollar, a monthly data plan that costs $85 in the states runs only $10 in India, Indonesia, Germany, Italy, and the U.K. The cheapest spot in the world to pick up 500MB of data according to the ITU, is Austria where $4.70 a month gets you what $85 a month buys you in the states.
But even though monthly data plans in the U.S. are the most expensive, they are also amongst the most affordable. You might ask yourself how something can be cheap and dear at the same time, but there is another way to look at the data. Even though the average plan in the U.S. for 500MB of data cost $85 monthly, well above other countries, as a percentage of the monthly income of an American, the $85 is actually quite cheap.
As a percentage of Gross National Income (GNI), the $85 represents just 2.1% off the average U.S. citizen's income making the plan quite affordable. In Botswana that same $85 plan represents 9% of an average person's income and in Morocco, it is an oppressive 20%. So what seems expensive looking at raw numbers is actually much different depending on the country you are looking at.
Besides the U.S., other countries with an average data plan that comes in at 2.5% of GNI or lower include Canada, Russia, Mexico and Europe. In Europe, monthly data plans can be as low as .5% to 1% of GNI making them the most affordable on the planet.
source: ITU via
Economist
,
AndroidCentral