Two men arrested for exploiting iPad vulnerability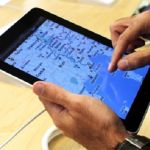 Two men were arrested late Tuesday for stealing email addresses from
Apple iPad
users. The accused utilized the iPad's recently exposed vulnerabilities to obtain more than 100,000 email addresses, many of which belonged to prominent celebrities.
Daniel Spitler of San Francisco, Cal. and Andrew Auernheimer of Fayetville, Ark. were engaged in a competition of sorts, comparing their
hacking
feats and sharing them with others online. U.S. Attorney Paul Fishman concedes that there was no criminal use of the email addresses, but insists that they "don't tolerate committing crimes for street cred."
Spitler was taken before a federal court in Newark, NJ, as 16,000 of the victims were New Jersey residents. After being released on a $50,000 bail, Spitler has been ordered to refrain from using the Internet, except at his place of work.
Auernheimer is facing charges in Fayetville for both his electronic crimes, and new drug charges which resulted from a search of his home. Both defendants are confident of their innocence. Spitler insists that "The information in the complaint is false," and that "This case has been blown way out of proportion."
What do you think? Are these two really criminals? Or are they just two misguidedly gifted hackers?
source:
Yahoo! News