Two die trying to rescue cellphone from an open-pit toilet in China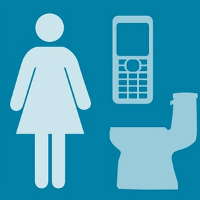 This seems like one of those stories that is impossible to believe. But according to the South China Morning Post, a woman in Xinxiang city, Henan, China, was answering nature's call using an open-pit toilet, when her brand new phone fell in. The device cost 2,000 yuan ($320 USD), which meant that it wasn't going to be lost in the sewage without a fight.
First, the woman's husband jumped into the cesspool in an effort to save the phone, but he was overcome by fumes and lost consciousness. Next, the husband's mom jumped in and she too passed out from the stench. The woman whose phone fell in the open-pit toilet was next, and she suffered the same fate. The father-in-law called two neighbors who both fainted inside the cesspool.
Finally a rope was discovered and six people were pulled out of the pit. The husband and the mother-in-law perished. The woman and a neighbor remain in intensive care.
According to a doctor, the two that died were suffocated. The victims were in the pit, filled with waste up to their knees, for five minutes. According to witnesses, both of the deceased had a pulse when rescued from the cesspool, but it took an hour for an ambulance to arrive. The moral of the story? Hold on to your phone as tightly as possible.
source:
SouthChinaMorningPost
via
CNET