Twitter sniffs around Yahoo although Verizon is still the front-runner
3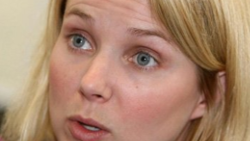 Twitter executives reportedly met a few weeks ago with Yahoo executives, including CEO Marissa Mayer, to discuss a transaction between the two companies. Yahoo has put its core internet business up for sale with a host of potential buyers checking it out. Some of the suitors rumored to be interested include Disney, Microsoft, News Corp.and Google.
But most believe that the front runner for Yahoo's internet properties is Verizon.
Big Red bought out AOL last year for $4.4 billion
and has an interest in trying to turn around older online mainstays that have seen better days. Most analysts say that it could take $4 billion to buy Yahoo, with the winning bidder putting in $1 billion in equity and financing the remaining $3 billion with debt.
While Twitter wouldn't seem to have any particular use for Yahoo, a source said that "Twitter is the destination for instant news, and Yahoo has a lot of eyeballs on its site. The idea isn't as crazy as you might think." But one person who might think that the idea is crazy is Twitter's co-founder and CEO Jack Dorsey, who didn't even bother to show up at the meeting with Mayer and the other Yahoo executives.
During the meeting, both sides reportedly discussed Yahoo's financial position and whether a deal with Twitter would make sense. But since Dorsey didn't show, most Wall Streeters believe that Twitter was just trying to pump Yahoo for information and really wasn't seriously considering making a bid. Still, both companies are focusing on mobile and there certainly is a connection there.
Second round bids are due early next week.
source:
NYPost