Twitter bringing paid tweets to a smartphone near you
2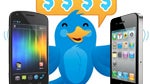 Twitter has announced that they will soon be bringing "Promoted Tweets" (that would be "advertising" to us average consumers) to the streams of their official apps. The
recent update
to the official iOS and Android Twitter app brought Promoted Accounts to your timeline already, and in the coming weeks Twitter says you will start to see Promoted Tweets in your app timeline as well.
If you use the mobile site instead of a native app you've already been treated to the promoted tweetin' for a while now, and Twitter points out that Promoted Trends and Promoted Tweets have been showing up when you use the search function of their mobile apps for some time now – presumably if you haven't been overtly annoyed so far you won't really mind Twitter's latest move to expand their revenues.
Being realistic, Twitter is a free service that many (many!) people enjoy using, so we can't begrudge them for wanting to make enough money to, you know, stay in business. And for most people the web-based Twitter experience hasn't suffered much from the inclusion of promoted tweets. Still, there are many
popular twitter clients
out there, and we imagine that Twitter will have to do something of a balancing act with their mobile apps, putting enough paid (err, "promoted") tweets in the timeline to rake in a bit of cash, but not so many that users get fed up and move to another service.
To that end Twitter has promised that you will only see a Promoted Tweet if it is relevant to you, hoping that you will find it more of a value-added experience than an annoyance. Can they pull it off? Only time will tell, but if you feel strongly one way or another let us hear about it in the comments section below.
source:
Twitter
via
AllThingsD