Turning Wi-Fi and Bluetooth on and off in Quick Settings takes an extra step in Android N preview
24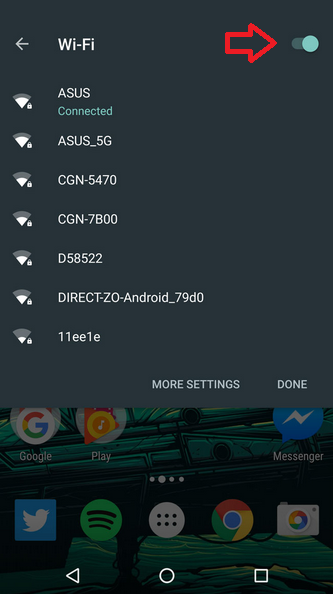 Arrow shows the toggle switch now used in Android N to turn on or off Wi-Fi in Quick Settings
Yesterday, we told you that
the fourth Developers preview of Android N was available for certain devices
. Owners of Nexus models like the
Nexus 6
,
Nexus 5X
,
Nexus 6P
and
Nexus 9
can load the latest preview if they are members of the Android Beta Program. One area undergoing change in Android N is
Quick Settings
.
With earlier builds of the OS, Android users could change certain settings very easily by pulling down Quick Settings from the top of the screen. With a single tap of the finger, certain features such as Wi-Fi and Bluetooth could be turned on or off. But that looks to be no longer the case with Android N.
With the latest Developers preview, tap on the Wi-Fi icon in Quick Settings and you'll see a list of Wi-Fi networks in your area. Tap again, and the list disappears. The same change is being made to Bluetooth; tapping the Bluetooth icon will open a list of compatible Bluetooth devices that are in your area. Tap again, and the list is gone.
Turning on or off Wi-Fi from Quick Settings in the latest Android N preview now requires two steps instead of one. Instead of tapping the icon to turn it on and tapping it again to turn it off, users now tap the icon once and then click on another toggle switch to the right of the Wi-Fi label. This is also the new way users turn on or off Bluetooth.
The change is a bit curious, especially for Wi-Fi users who usually turn the connectivity feature on and off more often than they change Wi-Fi networks. An issue has already been listed in the Android issue tracker, so perhaps Google will reverse this.
Another change removes the ability of the Android user to open the calculator from Quick Settings. If you're not happy with what you see when taking the Fourth Developers preview of Android N out for a spin, you can file a bug report to let Google know that you want some of these changes to be reversed.
Android N is expected to be released starting later this summer. Of course, the date when your Android phone receives it depends on a number of other factors, including the carrier that you use.
source:
Phandroid
via
SlashGear