True wireless charging at last! Microsoft introduces light beam charging method for smartphones
27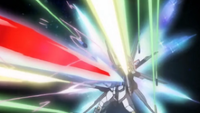 Innovation seems to be alive and well at Microsoft, whose Research arm appears to be working on a new mobile device charging project called AutoCharge. One of its goals is to create a truly seamless smartphone charging experience where you don't deal with cables and charging pads. Microsoft's prototype charging system uses a combination of image recognition and solar charging to automatically identify a smartphone on a desk and start firing charging photons at it. Black magic, people!
By Microsoft's word, the experimental prototype shows the light charger automatically identifies the smartphone in some 0.3 seconds, and proceeds to charge it almost as fast as existing wired chargers. Solar charging is a very unexpected solution for such an application, as both outdoor and indoor usage is unfeasible due to conditions such as the weak, scattered in-room lighting, or users carrying their smartphones in their pockets where no light can enter. Microsoft had to devise a method for indoor solar charging, making it work 24 hours per day. The ambitious task is accomplished by firing a straight beam of concentrated light with little scatter, which allows it to carry the necessary charge.
As for the image recognition part, it is facilitated by a camera that monitors a surface - for example, your desk. Algorithms detect when a smartphone in need of charge is in the eye of the camera, and if that happens to be the case, a rotating motor adjusts the direction of the charging beam so it hits the right spot.
Before you ask, yes, the smartphone to be charged absolutely needs an integrated solar panel to receive the energized particles. While the technological accomplishment of light charging is impressive to the point of being a Nicola Tesla dream turned true, it will take quite some time before smartphone makers are convinced to start putting solar panels on them. What would the designers think?
If you are particularly curious about Microsoft's invention, check out the entire white paper
at this location
.
Recommended Stories