Apple may jump on the triple camera bandwagon for the 2019 iPhone crop
43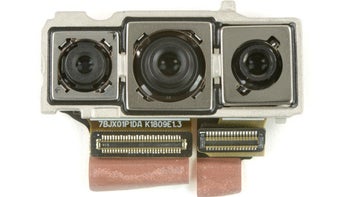 Camera features and quality are now one of the main differentiators when it comes to modern phones, as otherwise they often mostly mimic specs and design from one another, and we aren't talking glass bodies or notches only.

Monochrome, wide angle? What would Apple do with a third sensor here?
Nothing is off-limits when it comes to perceived camera superiority, as Huawei just proved with its triple-lens wonder, the
P20 Pro
, which sports a
40MP snapper
underneath two 12MP shooters. Monochrome, zoom, and a huge 1/1.7" kits combine for unparalleled experience, and, if history is any indication, other phone makers might follow suit with triple-camera setups of their own, serving similar purposes.
One of these manufactures may, surprisingly, be Apple, reports Taiwanese media today, citing unnamed industry sources. Surprisingly, since Apple is not usually one to jump headfirst in the latest fad before it is sure it will bring something actually useful to the table. It held out on OLED displays, wireless charging and dual cameras for years, but the benefits of mixing and matching the photography information collected by three sensors may have outweighed the hurdles involved in designing and fine-tuning such a kit.
The Taiwanese report is set from the point of view of camera component suppliers, of course, as Taiwan has plenty of those that would benefit if Apple starts ordering more modules en masse. The benefit that remains for us, however, is the hint that Apple may be in the planning stages of a triple-camera iPhone prototype set for unveiling in the fall of 2019. What's the point? Well, the sources cite possibilities for 6-axis image stabilization and 5x optical zoom, which would certainly make one raise both eyebrows if Apple takes the stage in September 2019 to announce such features, and could place the team from Cupertino ahead of the mobile photography pack again.
That's right, the report says that this year's iPhone crop is done and dusted, with the
6.1" LCD iPhone 9
taking the lead role in Foxconn's production schedule, so Apple may start toying around with grand ideas for the 2019 iPhones, and one of those seems to be a tri-camera handset.