Trapster makes a miraculous return to the App World - BlackBerry owners rejoice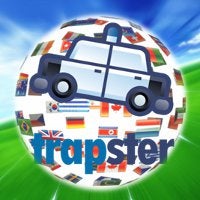 Considering
all the commotion
surrounding the popular BlackBerry app
Trapster
, a "speed trap sharing system," it makes us wonder how it miraculously managed to make a return to the App World – even more when it was promptly banned well over a year ago.
For those of you that have forgotten, Trapster is an app that allows users to track police speed traps and checkpoints. However, the developers ran into some heat with US Senators that argued the app giving "
drunk drivers a free tool to evade checkpoints, putting innocent families and children at risk
." After that whole thing, Trapster was sent packing home and completely gone from the App World.
So yeah, it's rather surprising to find it back in full force, but nevertheless, we're certain there are going to be plenty of people happy to see it once again. Of course, it's wonderful that the app is made available for
free
– so who wouldn't want to download it? Frankly, we're curious to know how it managed to make its return, but let's hope and cross our fingers that it's a permanent thing this time around. If not, you'd better be quick to downloading it before it's inexplicably gone.
source:
BlackBerry App World
via
CrackBerry