Transfer your number to Cricket and score a free Microsoft Lumia 650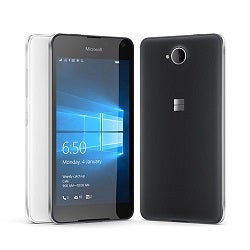 When it comes to the world of prepaid cell phone service providers, Cricket is easily one of the best choices out there. Between their excellent coverage with AT&T, solid selection of smartphones, and incredibly affordable rates, they're certainly worth checking out if the likes of the 4 major carriers in the US are a bit too expensive for your blood. Cricket
recently announced their all-new 1GB plan
that retails for a mere $30/month, and right off the heels of that announcement the company is offering a pretty sweet deal for simply transferring your number over to them.
For a limited time, Cricket is offering new customers who port their number over from another carrier a brand new Microsoft
Lumia 650
for no added cost. Although the 650 might not be the most impressive smartphone out there, it's easily one of your best bets if you're in the market for an affordable (or in this case free) Windows 10 Mobile handset. The phone features a 5-inch 720p HD OLED display, 8MP camera, 2000 mAh battery, 16GB of expandable storage (up to 256GB), Snapdragon 212 processor, and more. While those specs might not be the most impressive we've ever seen, they're certainly more than capable for handling day-to-day tasks like Web browsing, streaming videos, cruising through social media, etc. And, when you consider the fact that you're getting it for free, that really isn't a bad deal at all.
If Windows 10 Mobile really isn't your cup of tea, you can opt to get the ZTE Sonata 3, Kyocera HydroVIEW, or Alcatel STREAK in place of the Lumia 650. All of those phones run Android, but if you're looking for something with the best performance possible, Windows 10 Mobile has proven to run quite a bit smoother on lower-end hardware when compared to the Android OS. The choice will ultimately be up to you, but that is something worth considering.
As great as all this sounds, there is a big caveat involved with it. If you're switching to Cricket directly from AT&T, this deal will not apply to you since Cricket is actually owned by AT&T. This makes good sense, but it's still a bit of a bummer if you're an AT&T customer and were hoping to snag a Lumia 650 for free.
Cricket only offers the Microsoft Lumia 650 is black, and if you aren't transferring a number or you're coming over to Cricket from AT&T, the Lumia 650 will run you $49.99 and you'll also be subject to a $25 activation fee.