Track your smartphone usage with 'QualityTime' for Android handsets
6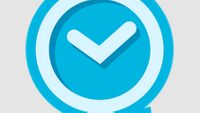 Are you always looking down at your Android flavored phone no matter what you are doing? Have you been called out by your Significant Other for inappropriate use of your phone? Did you get mean looks from others when you used your handset at a funeral or when you went to the opera? Your first instinct might be to deny, deny, deny. But there is an app available from the Google Play Store that just might open your eyes about your smartphone usage.
QualityTime
is the name of the app, and it officially launches today. Open an account and you can track your smartphone usage over a six month period, with a timeline that shows you how often you employed your pride and joy over the course of each day. You can see which apps you use the most and how long you spend with your favorite apps each day and each week. Hourly usage data can also be accessed for your top apps. You can set up a notification that will alert you when you have used your phone or a specific app for more than a specific period of time.
What makes QualityTime particularly useful are the graphs it creates showing what it called your "digital diet." The graphs, which show your daily, weekly and monthly app usage, can be sent out via social media so that you can compare your usage with friends or family (who are the people complaining about your smartphone usage in the first place). Whether you want to show them that you haven't played Words With Friends for weeks, or want to brag about the long time you spent on Porn Hub in one session, this is the app that can do it.
"Smartphone use has become so widely integrated into our everyday lives, it's difficult for people to realize just how frequently and compulsively they use their phones. If you asked me whether I'm addicted to my smartphone, I would say absolutely not. Then I discovered that I spend 3 hours a day on my phone simply out of habit. QualityTime details smartphone and app use both in terms of frequency and duration, allowing you to understand your smartphone habits and trends - whether it is how often you unlock you phone, a specific app you keep revisiting, or a certain time of day you most use your phone "-Richard Sah, President and co-founder, ZeroDesktop
If you want to know the truth about your smartphone usage, or perhaps arm yourself with data that you can use to defend yourself during the next argument about your smartphone habit, head over to the Google Play Store where QualityTime is a free download.
source: QualityTime (
Android
) via PRN