TouchDevice software makes any phone a touch device
1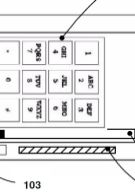 A UK startup, InputDynamics, has made a system which interprets the sound of touching a non-touchscreen phone and interprets that sound as navigational inputs, making the device function like it had a touchscreen.
The system, called TouchDevice, will be a software package that can be added to make any phone 'touch' sensitive. Inventor Giovanni Bisutti explains that the sound of tapping any part of the casing or screen of the phone will make a distinctive acoustic signature, which will be recognized as a specific input.
At the moment, the software is only accurate to within 1 square centimeter. They are still working to make the software recognize the wide variety of touching noises such as fingernails, fingertips, and swiping/scratching of the finger. It only requires a software installation and the phone's microphone in order to function, so it could be available for any push-button phone.
The technology is obviously very exciting, but its application to push-button phones seems unnecessary, particularly as touchscreen phones get cheaper and more accessible. Perhaps the technology will bear other as-of-yet unidentified uses.
source:
NewScientist
via
Engadget