Toshiba TG02 and K01 are powerful smartphones based on Windows Mobile 6.5
4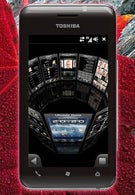 TG01
at MWC last year - the first cell phone to integrate 1GHz. Snapdragon processor. Later, however, it turned out the device was rather disappointing due to the weird software it rolled out with and despite the powerful hardware it packed. Perhaps the manufacturer has learned its lesson, because its latest products, the Toshiba TG02 and K01, that have just made their first appearance at MWC 2010, are equipped with new interface.
The TG02 is the heir apparent to the TG01 and a classic candybar with 4.1-inch WVGA display that, thankfully, utilizes capacitive technology. It retains the slim profile of its predecessor and is only 9.9mm thin. The device is based on the Snapdragon chipset as well and will come with Windows Mobile 6.5, updated with a new 3D interface that looks quite well indeed.
The Toshiba K01 features the same hardware specifications as the the TG02, but is equipped with side-sliding QWERTY keyboard that increases the overall thickness of the device with just 3mm. Moreover, it boasts an OLED screen that, according to the manufacturer, offers much clearer images and reduced energy consumption.
The available information on the Toshiba TG02 and K01 is rather scarce at this time and major parts of their specifications are still missing, plus it´s
source: Toshiba via
Engadget
Check here for our complete coverage of the Mobile World Congress!